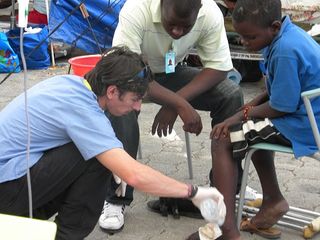 NOLSies all over the world are finding that wilderness leadership skills—namely, expedition behavior, competence, communication, judgment & decision-making, tolerance for adversity and uncertainty, self-awareness, and vision and action—are as useful in the humanitarian world as they are in the backcountry.
Many NOLS graduates are involved in humanitarian development and relief work worldwide, and at least five are currently involved in earthquake relief efforts in Chile and Haiti.
There seems to be something about NOLS that sparks its graduates to help others. The recent earthquakes in Haiti and Chile are not the only events that have prompted NOLS graduates to drop everything and head abroad to help out. Kelly Pyke is involved in international relief work in Uganda. Jerry Jex just returned from a year and a half of development work in the Philippines. Glad Griebling just returned from a year of medical relief work in the Sudan. Paul Dreyer just devoted three months to humanitarian work in Nepal. Michelle Murphy just returned from leading a team on medical relief work in Ghana. Justin Padjett founded
Landmark Learning
, a relief medic program, and is dedicated to rural medical care in Ecuador. And, Dr. Sharon Stein (a
NOLS Kenya
grad and specialist surgeon), Jeff Allen (WMI grad), and Jesse Karp (a NOLS river instructor) work with
Doctors Without Borders
in Africa.
NOLS is proud that these and other NOLS graduates have dedicated their lives to helping others. If you know other NOLS grads involved in humanitarian efforts, let us know.
Aparna is a NOLS instructor and has been the PR and Marketing Intern, PR specialist, and the Diversity & Inclusion manager at NOLS. She is a founding partner of The Avarna Group (theavarnagroup.com).