Aah . . . the winter
Olympics
are upon us once again. It's time for some hard-core athletes
to shred the nar nar. And more
importantly, it's time for the rest of us to root them on as we lounge languidly
on our La-Z -Boys in front of a fire and a large-screen LCD with a warm mug of liquid
in our paws.
But who should I root for, you ask?
Well, for starters, two 2004 NOLS Wilderness Medicine
Institute graduates are competing with the U.S. Ski and Snowboard team.

Casey
Puckett is a free-style skier and a five-time Olympian, and Holly Brooks is a
first-time Olympian competing in four cross-country ski events.
Stay tuned for updates on Casey and Holly
- we will be tracking their progress as they shred and slide their way through
Vancouver.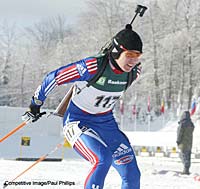 But the NOLS-Olympics connection doesn't stop there. Wyoming native and former NOLS instructor Sarah Konrad is also in Vancouver representing the U.S. team.
Sarah was dubbed "an inspiration" by the Master Skier Cross Country Ski Journal when
she competed as a biathlete in the 2006 Olympic Team at the age of 38.

And here's a unique NOLS-Olympics connection - probably a first. NOLS Yukon Grad and Rations Manager Noel Cockney, a First Nation member from Inuvik, will be showcasing his talents at the Inuit Games. When asked what he was most looking forward to about the Olympics, Noel responded "I cannot wait to show the world Inuit Culture; our games, they way our
ancestors lived, and what kind of people we are."
Other NOLS-affiliated 2010 Olympians include cross-country
skier Simi Hamilton (relative of a l

ong line of NOLS graduates and
instructors), and Amy Rathke (who is using the mad driving skills she gained on
the NOLS Bus to help transport Olympic athletes).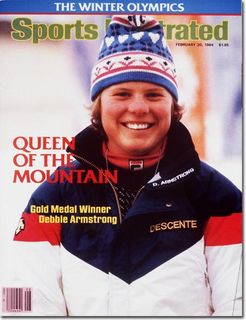 But we cannot talk about the NOLS-Olympics connection without hearkening back to one of the most famous NOLS Olympians. In 1984, NOLS alum Deb Armstrong
was crowned "Queen of the Mountain" by Sports Illustrated when she blew her
competition away in the Giant Slalom. Over twenty-five years later, Deb is
still going strong – she is the Alpine Technical Director of the Steamboat Springs Winter
Sports Club.

And more recently, NOLS Yukon alum Graham Nishikawa earned two Golds for Team Canada in cross-country ski events in Torino.

Know any other NOLS Alums involved in the 2010 Olympics? Let us know so we can send a shout out
to them.
Aparna is a NOLS instructor and has been the PR and Marketing Intern, PR specialist, and the Diversity & Inclusion manager at NOLS. She is a founding partner of The Avarna Group (theavarnagroup.com).