Wilderness first aid skills are an important part of being an Outdoor Educator. One of the sections on the NOLS Outdoor Educator Semester (OES) is a WMI Wilderness First Responder (WFR) course. During the WFR students learn how to act in situations when injury or illness have occurred. While classroom time gives students a foundation in the different subjects of wilderness medicine, practical scenarios are where the skills are honed.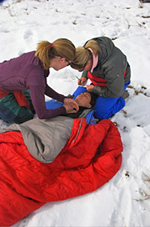 To the right, WFR students work through their patient assessment, the
tool by which they will gather the information from which to then treat
their patient.
As NOLS student groups will travel independent from their instructors at times these WFR skills allow students to respond to situations they might encounter during their course. These WFR skills also transfer over when students are on personal trips or working for other organizations in the Outdoor Education field.
Late September saw the 2009 Fall Outdoor Educator Semesters arrive at NOLS' Three Peaks Ranch for their WFR training. On October 8, 2009 those students leave for their climbing sections having successfully completed their WFR training. Congratulations to the students of OESF 1 & 2.
(Entry & Photo courtesy of Marco Johnson)